Zometool is a great toy for kids.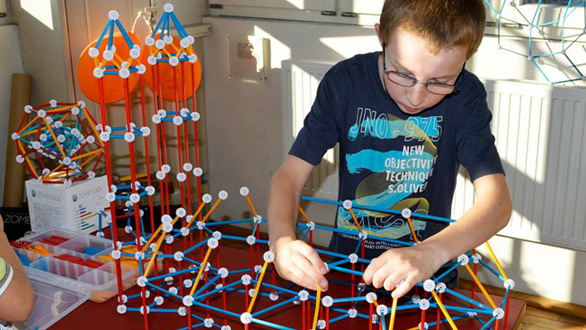 But you knew we were going to say that… What do our customers say?
My grandchildren (7 and 9 yrs old) love it. They are using their imagination and they follow instructions. They just finished building an airplane.
It's the best present I've ever given them. Best of all: they are not getting tired of it.
— Wilhelmina from Orange County, CA
My 13 year old niece and I played for hours, creating snowflakes and stars and then moving on to 3D structures. It was fun to see all the awesome designs she came up with that aren't in the included instructions as well as recreating some of our favorites in the booklet
—

Leanne

from Seattle, WA
One of the features I like that Zometools gives him is the advanced opportunity to learn to create with a lot of "trial and error" processes. It really helped Alex develop patience with his creative process and become more tolerant when some part of his steps did not work, and he had to go back a few steps and start over. Finding ways for him to learn through the mistakes in his design was a good tool for him to acquire.
— LivingTheDream from Mound, MN
A single toy/set that I can take on a trip which will amuse BOTH my 8 year old son and 13 year old daughter, and that is definitely a trick!"
—S.E. LIPPINCOTT, Mother, USA
Awards? —We've won a few…
Creative Child Magazine's "Product of the Year" for 2012
Creative Child's "Top toy of the Year" for the Construction Toy category in 2012
Child Magazine "The Year's Top Toys" 1999
Dr. Toy Best Picks in 2012
Dr. Toy Best Smart Toy Product – 2005
Dr. Toy 10 Best Toys for 2002
Dr. Toy 100 Best Children's Products for 2002
Dr. Toy 100 Best Children's Products 1999
Dr. Toy Best Vacation Children's Products 1999
Family Life Magazine "20 Great Toys for Under $20" 1999
The Lion & Lambs Project "The Top 20 Peaceful Toys" 2001
National Association for Gifted Children 2003 Holiday Toy List
The National Parenting Center Seal of Approval 1999
Neighbourhood Toy Stores of Canada 2002 Gold Star Award
Oppenheim Toy Portfolio Gold Seal Award 2000
Parent Council Ltd. Winning Selection 1999
Parenting Magazine Best Toys of the Year 1995
Parent's Choice 2002 Approved Award
Parents' Choice Gold Award 1999
Parent's Choice Approval Award 1995
Parent's Guide to Children's Media: Outstanding Achievement in Toys 1998
Popular Science "Best of Toyfair" for 2013
Zometool is a great toy for grown-ups too…
Did you know that roughly half of our users are over 30 years of age?
This is Brilliant! Why haven't we had this wonderful thing before?
I wish we had had this when I was at school.
I only have this one box but now I want MORE!
— G. Mears from Cornwall, UK


Actually, why not have the whole family building together?
Our family, (ages 10 to 50) uses Zometool as a 'togertherness' activity. It appeals to each of us in our own way and level; our children; my husband, an engineer; myself, a journalist. It is never boring!
—LAURA MARLOW, Parent, USA
My son has played with Zometool for several years. They are still his favorite toy. He gets more upset when we take away his Zometool than when we take away his Xbox.Thanks for an awesome product!
—DAVID CLONINGER, Parent, USA


"The kids are thrilled! Slow to start but now I can't tear them away. I'm hooked too... wish they had these when I was a kid."
— Bonnie from Ojal, CA

Building together with my computer scientist/engineer husband, my four-year-old and my two-year-old, and feeling like the whole family was equally clever, interesting, and happy. It's a great way to be connected and to share time together!
—EMILY VAN LIDTH DE JEUDE, Zomer-Mom, USA